23 Aug

City of Glendale PPE Program

Posted at 23:17h

in

Press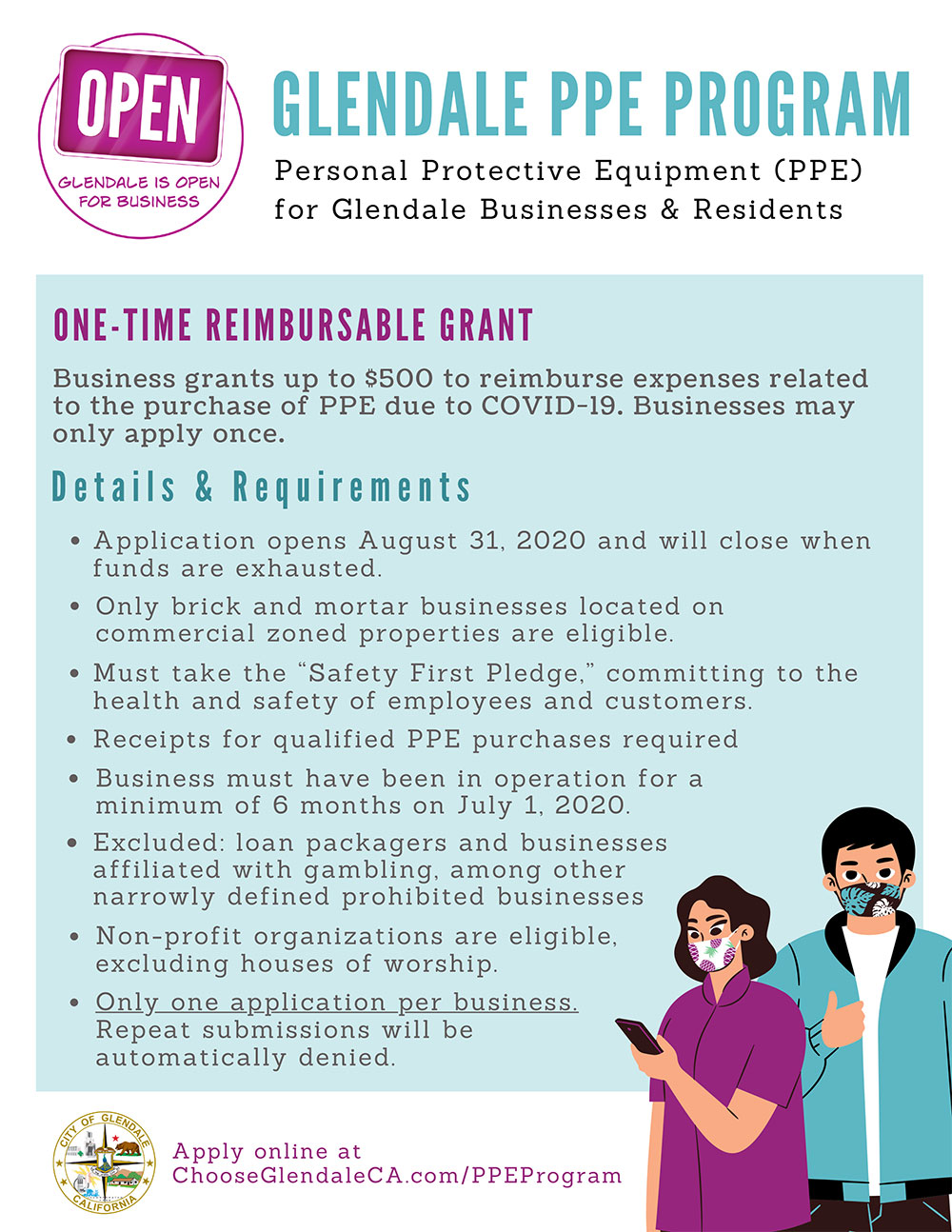 The City of Glendale is launching the Personal Protective Equipment (PPE) Program.  This program is designed to help Glendale Businesses with their PPE needs and will consist of three main components.
1. Reimbursable Grant Program
2. Clean Hands – Sanitizer Distribution Program
3. Public Education and Outreach
PPE Reimbursement Grant
​​Reimbursable grant of up to ​$500 per business to reimburse any expenses related to the purchase of Personal Protective Equipment (PPE).
Total of 900 Brick and Mortar businesses to be supported.
Receipts required.
Clean Hands Glendale
The City of Glendale will distribute 30,000 bottles of hand sanitizer to businesses and residents via drive-thru pick-ups, pop-up events, and local business association distribution opportunities. These hand sanitizer bottles were generously donated by the Federal Emergency Management Agency (FEMA) and CAL OES (Governor's Office of Emergency Services). Logistics and dates for this program are still in the planning stages; however, it is anticipated that the bulk of the distribution will happen via:
Drive-thru events – coordination of contactless drive-thru events to allow for businesses to pick up sanitizer.
"Clean Hands" Store – set up at 117 Artsakh Avenue retail unit for contactless pick-ups.
Business Associations – the City will work with business associations to assist in the distribution of hand sanitizer.
Businesses will receive up to 4 gallons of hand sanitizer + face masks while supplies last. Recent utility bill will be required as proof of business address. Must be located in Glendale on commercially zoned property.
Public Education/Outreach
City Fire personnel will visit businesses to raise awareness about the importance of health and safety guidelines via door to door outreach in a friendly, non-enforcement capacity. They will be ambassadors, encouraging responsible business practices by shedding light on City resources and programs. Their outreach toolkit will consist of:
PPE Program Flyer describing
Reimbursable Grant Program with website info and QR code for businesses to access more information
Clean Hands Program with website info and QR code for business to access more information
Details about Upcoming Drive-Thru events and Clean Hands stores
Hand sanitizer for distribution at their discretion
Contact Information
Please contact the Economic Development Team at [email protected] or by phone at (818) 548-2005 for more information regarding this program.