25 Jun

City of Glendale Small Business Grant Program

Posted at 10:36h

in

Press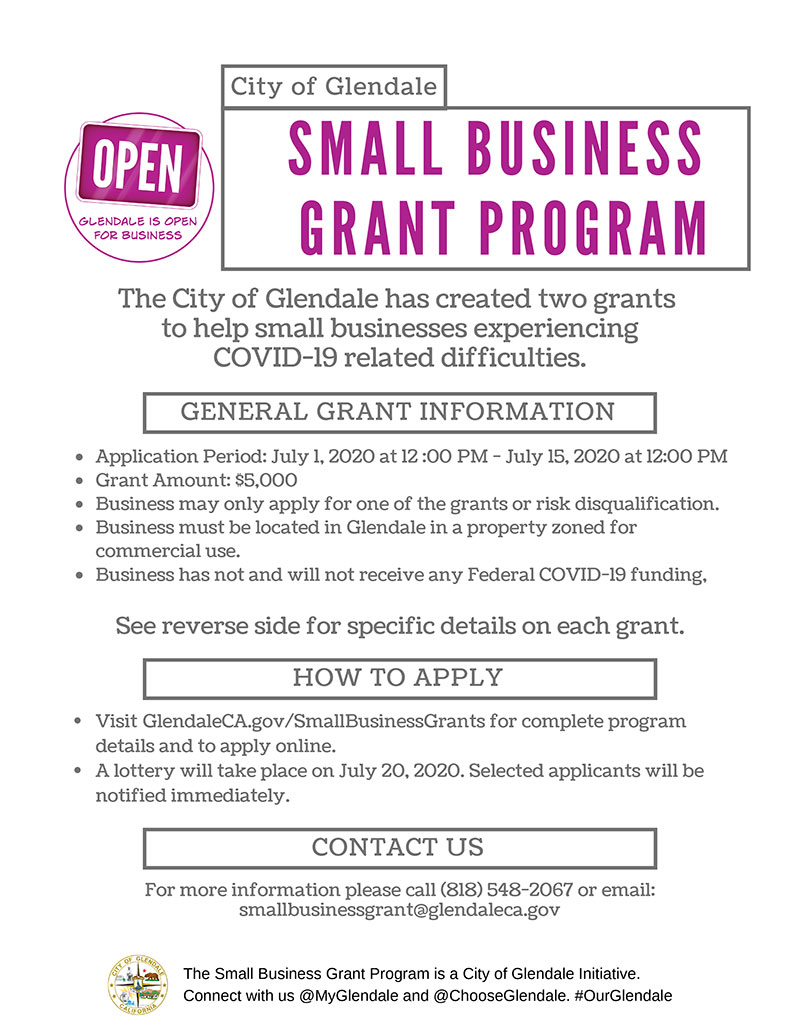 The City of Glendale has created two grants to help small businesses experiencing COVID-19 related difficulties.
General Grant Information
Application Period: July 1, 2020 at 12 :00 PM – July 15, 2020 at 12:00 PM
Grant Amount: $5,000
Business may only apply for one of the grants or risk disqualification.
Business must be located in Glendale in a property zoned for commercial use.
Business has not and will not receive any Federal COVID-19 funding.
How to Apply
Visit GlendaleCA.gov/SmallBusinessGrants for complete program details and to apply online.
A lottery will take place on July 20, 2020. Selected applicants will be notified immediately.
For more information please call (818) 548-2067 or email: [email protected]
Small Business Recovery Grant
Business must meet all requirements on reverse side plus:
Must have 500 or fewer employees.
Businesses must be in operation for a minimum of 6 months as of July 1, 2020.
All business types are eligible to apply (excluding loan packagers and businesses affiliated with gambling, among other narrowly defined prohibited businesses).
Non-profit organizations are eligible (excluding houses of worship).
Low-Income Small Business Grant
Business must meet all requirements on reverse side plus:
Business must have 25 or fewer employees.
Business must have been in operation for at least one year as of July 1, 2020.
Business is a restaurant or defined as a "non-essential" business under Safer at Home restrictions, including bars, bowling alleys, beauty salons or barbershops, retail stores, nail salons, gyms or fitness centers and spas.
Applicant must be a legal resident of the United States
51% of the employees, including the owner, must be LOW-INCOME.
Click here for more information on the grant programs.